Warwick - Programme
VW Warwick Events Schedule
Friday 29th September
Track is open only to pre-entered drivers and crew who have their pre- paid tickets. There will be a designated VW pit area. Please ensure you have your passes for gate entry.
Dyno Power Runs From 7pm in the main marquee.
Saturday 30th September
9am - track open to general public and those participating in the street parade.
9.30am - Street parade leaves from the track. Only registered vehicles may be driven. All unregistered vehicles must be trailered. Street Parade ends at Leslie Park in the Warwick CBD, where a static display occurs for one hour. Competitors can return to the track from 11am onwards for scrutineering.
11am - 12pm - Scrutineering
1pm - 5pm - VW Practice and Qualifying
4pm - 7pm - Driver Simulator Safe Driver Training in main marquee
6pm - Track closed to general public. Only drivers, crew and paid campers allowed to stay overnight
7pm - Special Motorsport Presentation in main marquee and fully catered Spit Roast Dinner (must be pre-paid).
Sunday 1st October
9am - Gates open to general public, swap meet, show'n'shine and trade stalls
9am - 10am - Practice and Qualifying
10.30am - 2pm - Competition. Round Robin (4 rounds) plus final
3pm - Trophy Presentations
5pm - Track closed to general public. Only drivers, crew and paid campers allowed to stay overnight
Please note, while all effort is made to stay to the programme, variations without notice may occur
Dyno Run Friday Evening
Driver Simulator Safe Driver Training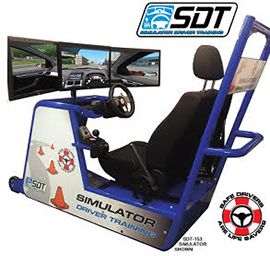 Safe Driver Training Race Simulator